About Us
About Us
We're proud to offer the finest floral arrangements and gifts in Sacramento, Elk Grove ,Rancho Cordova, Fair Oaks, Carmichael, Citrus Heights, Orangevale, West Sacramento and surrounding areas. MOST ORDERS MUST ARRIVE AT OUR SHOP BY 10 am FOR SAME DAY DEL. Larger funeral pieces and orders to 95820, 95824, 95823, 95828 may be received after 10 for same day delivery
WE ARE NOW DELIVERING LIMITED DAYS TO WILLIAMS, MAXWELL, WILLOWS, ORLAND, CORNING, GERBER, TEHAMA AND LOS MOLINOS. DELIVERY FEE TO THOSE AREAS IS $12.
-FUNERAL SPECIALISTS
-Family owned and operated
-Full service florist Large selection of flowers, plants, balloons, and plush
-30 years of professional floral design experience
-Contemporary & traditional arrangements
-All products are 100% guaranteed
-100% customer satisfaction
-Corporate accounts welcome
-Delivery 6 days a week
-Free delivery to area hospitals & funeral homes
-English and Vietnamese spoken
-We work within your budget
PLEASE PLACE ORDERS BY 10am FOR GUARANTEED SAME DAY DELIVERY
Flowers Unlimited
6802A Fruitridge Road
Sacramento, CA 95820
---
Store Hours:*
*Our shop is open from 8:00 a.m. to 6:00 p.m., Monday through Friday and from 8:00 a.m. to 12:00 p.m. on Saturday. We are closed on Sundays except for special arrangements. Earlier or later hours can always be arranged.

To help assure on-time delivery during the busy holiday season, place your order at least 3 days prior to the following major holidays: Thanksgiving Day, Christmas Day, New Year's Day, Valentine's Day, Easter, Administrative Professionals Week, Mother's Day, Memorial Day, Father's Day, Independence Day and Labor Day.

Our shop will always be closed on the following holidays: Thanksgiving Day, Christmas Day, New Year's Day, Easter, Father's Day, Independence Day and Labor Day.
Payment Options
We accept the following payment methods:
Visa
MasterCard
Discover/NOVUS
American Express
Phone In Payment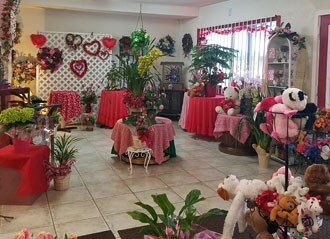 Areas Served
Our shop serves the following areas:Sacramento, North Sacramento, West Sacramento, Rancho Cordova, Citrus Heights, Carmichael, Fair Oaks, Elk Grove, , Roseville, Williams, Maxwell, Willows, Corning, Tehama, Gerber, and Los Molinas
We also deliver to the following facilities
A & A Care Home
A Senior Solution
Abc Quality Guest Home
About Elder Care
Accentcare Skilled Nursing
Aegis Of Carmichael
Affordable Cremation Burial
Albert Einstein Residence Cent
Altamedix Adhc
Alzheimers Diagnostic Ctr
Andrews & Greilich Mortuary
Applewood Care Ctr
Arden Rehab & Health Care Ctr
Arden Way Apartments
Asbury Park Nursing & Rehab
Asian Community Nursing Home
Atria Carmichael Oaks
Atrium Of Carmichael
Briarwood Health Care
Brookdale Greenhaven
California Funeral Directors
Camelot Care Home
Campus Commons Senior Living
Capitol Area Development Auth
Caring Families
Casa Coloma Health Care Ctr
Casa De Angelo Apartments
Chateau At Carmichael Park
Chateau At River's Edge
Chris Best Care For Elderly
College Oak Nursing & Rehab
Coloma Woods
Comstock
Country Club Manor
Creekside Village Senior Ctzn
Crestwood Manor
D R's Board & Care
Daljeet Singh's Nursing Care
Dawson's Lodge
Delta Cove - A Senior Communit
East Lawn Elk Grove Memorial P
East Lawn Memorial Park
East Lawn Rancho Cordova Mrtry
Eden House Residential Care
El Camino Gardens
Elk Grove Guest Home
Emerald Gardens Nursing Ctr
Eskaton
Eskaton Greenhaven Country Pl
Eskaton Jefferson Manor
Eskaton Lodge Communities
Eskaton Manzanita Manor
Eucalyptus Tree Lodge
Evergreen Memorial
Fairhaven Retirement Community
Fairwood Apartments
Florin Health Care Ctr
Forrest Palms Senior Center
Fountainview Care
George L Klumpp Chapel of Flow
Golden Dove Rcfe
Golden Girls
Golden Girls Residential Care
Golden Horizon
Golden Palms Mobile Home
Golden Pond Retirement Comm
Golden Valley Seniors
Golfview Manor Williams Res Hm
Gormley's Retirement Home
Gramercy Court
Greenhaven Estates
Harry A Nauman & Son
Haywood Haven
Healthsouth Surgery Ctr
Hellenic Senior Center
Henson Manor Estates
Herberger Family Elk Grove Fun
Heritage Convalescent Hospital
Heritage Mortuary Transporttn
Heritage Oaks Hospital
Herjema Care 2
Holiday Village Rv & Mobile
Home Sweet Home Care Center
Homestead Of Fair Oaks
Independant Living
Ivyridge Assisted Living
Jasmine-Hall 6
Kaiser Permanente Medical Ctr
Kaiser Permanente Sacramento
Land Park Woods
Leisure Manor
Lind Brothers Funeral Home and
Lombard & Company Funeral Dire
Mark Lee Manor
Marriott Mapleridge
Mc Guire Guest Home
Mc Kinley Health Care Ctr
Meadows
Mercy Family Health Ctr
Mercy General Hospital
Mercy Home Health & Hospice
Mercy McMahon Terrace
Mercy San Juan Medical Center
Methodist Hospital-Sacramento
Mission Carmichael Health Care
Morgan Jones Funeral Home Inc.
Mount Vernon Memorial Park & M
Mountain Manor Senior Rsdnce
National Retirement Comms Co
Nautilus Society
Nazareth Park Place
Neptune Society of Northern CA
Nicoletti, Culjis & Herberger
Nightingale-Gilmore Funeral
North Sacramento Funeral Home,
Norwood Pines Alzheimer Ctr
Outpatient Services
Palm Valley In-Home Care Svc
Park Place
Park View Apartments
Parkway Guest Home
Pasconi Home Care
Piearcy's Guest Home
Pioneer House-Retirement Res
Pioneer Tower
Primrose Sacramento
Providence Care Home
Regency Place Assisted Living
Rio Linda Manor
River's Edge
Rollingwood Commons
Rosemarys Willow Grove Home
Russ Monroe's Funeral Home
Sacramento Center-Hematology
Sacramento Guest Home
Sacramento Housing & Redevlpmt
Sacramento Manor
Sacramento Memorial Lawn
Sacramento Mortuary Trnsprtn
San Juan Surgery Center
Saylor Lane Health Care Ctr
Senior Connection
Shadowood Apartments
Sherwood Healthcare Ctr
Shriners Hospital
Sierra Hills Memorial Park &
Sierra Hills Memorial Park and
Sierra Sunrise Apartments
Sierra View Funeral Chapel and
Sierra Vista Hospital
Simple Traditions
Sky Park Gardens
Sky Parkway Terrace For Senior
Southbreeze Gardens Inc
St Claire's Nursing Ctr
St Francis Manor
St Francis Senior Residence
St Mary's Home
St. Mary Catholic Cemetery
Stacie's Chalet
Sterling Suites Lemon Hill
Stewart's Guest Home
Summerfield Plaza Housing
Sun Bridge Care & Rehab.
Sunbridge Brittany Care Center
Sunbridge Care & Rehab Ctr
Sunrise Assisted Living
Sunrise Assisted Living-Fair
Sunrise Guest Home
Sunrise Rosewood Care & Rehab
Sunset Lawn Chapel of the Chim
Sutter Center For Psychiatry
Sutter General Hospital
Sutter Memorial Hospital
Sutter Oaks Nursing Ctr
Sutter Place Apartments
Sweet Memories Care Home
Taylor's Residence
Terraces At Capitol Park
Thao & Sons Memorial Chapel
Thompson Funeral Home Inc
Trinity House Retirement Res
U C David Medical Ctr
U C Davis Medical Ctr
UC Davis Medical Center
University Of Ca Surgical Onco
Valley Skilled Nursing
Vintage Estates Of Sacrameto
W F Gormley & Sons
Walnut House
Walnut-Whitney Hospital
Western Retirement Communities
Winding Commons Senior Living
Windsor El Camino Care Center
Woodhaven Senior Residences
Woods Retreat
Woodside Healthcare Ctr
Specialty Services
We specialize in the following services:

-Large inventory of fresh flowers
-Plants
-European/dish gardens
-Contemporary and traditional arrangements
-High-style floral arrangements
-Silk arrangements
-Weddings
-Funeral designs
-Gourmet and fruit baskets
-Greeting cards
-Balloons
-Country Gifts - Wall Hangings, ect.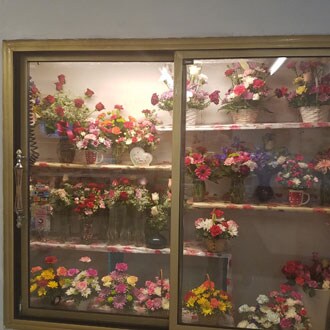 Contact Information
If you have any questions or need more information, please contact us directly at 916-381-0000. After hours we can be contacted at 916-802-9780. We're always here to serve you and make your flower-sending experience a pleasure.

Flowers Unlimited
6802A Fruitridge Road
Sacramento, CA 95820-5930
Delivery Policy
A local delivery fee of 11.00 will be added to each order, for each address. (For deliveries outside our local delivery area, this fee may vary.)
U.S. ORDERS MUST BE RECEIVED BEFORE 10AM. in the recipient's time zone to assure same-day delivery. Orders received after that time will be delivered the following day.
We will do our best to accommodate deliveries at specific times of day, but we cannot guarantee it.
We are unable to make deliveries on Sundays except for special arrangements. Deliveries requested on this day will be delivered the following business day.
Delivery of orders to rural route addresses or cemeteries cannot be guaranteed.
We will be happy to accept your international orders if you call our shop directly. We are unable to accept international orders over the Internet.
Deliveries to 95820, 95823, 95824 , 95828 may be considered for same day delivery if order is made after 10AM
Substitution Policy
Occasionally, substitutions may be necessary to create your bouquet due to the availability of certain flowers in various parts of the country. Care is taken to maintain the style, theme and color scheme of the arrangement, using flowers of equal value. Additionally, the substitution of certain keepsake items may be necessary due to increased demand, especially during major holidays. In single-flower arrangements, such as an all rose bouquet, or orchids, we will make every attempt to match the flower type, but may substitute with another color.
Privacy Policy
This privacy statement has been created in order to demonstrate our firm commitment to protecting customer privacy.

Information We Collect

If you open an account on our site or make a purchase, we need your contact information including your name, e-mail address and mailing address to complete your transaction.

When you visit our website, we also collect some basic information that does not identify individual users. We use this information to determine our users demographics and interests, so that we can better understand and serve our users.

"Cookies"

Cookies are small files which store certain information about your activity on the website and are stored on your computers hard drive. Our cookies do not contain any personally identifying information. We use cookies to let us know that you are a prior customer, so that you dont have to reenter information you gave us on your prior visits. Most web browsers automatically accept cookies, but most allow you to instruct your browser to prevent the use of cookies. However, if you disable cookies, you will not be able to use certain features of this website.

Our Use and Disclosure of Your Information

When opening an account or making a purchase, you have an opportunity to opt-in or opt-out from receiving emails from us. If you opt-in to receive information from us, we may use your purchase history, contact information and other registration information to provide you with more relevant information and email content. We may send emails to our users regarding changes in our services or other information we believe will be of interest to our users. If you prefer not to receive these emails, you can send us an email with the subject line no emails or reply to our email with the subject line no emails.

If you send us personal correspondence, such as emails or letters, or if other users or third parties send us correspondence about your activities on our site, we may collect such information. We may use that information and other information that we obtain from your use of our site to resolve disputes, troubleshoot problems and enforce our agreement for Terms of Use.

We may share aggregate statistics about our sales, traffic patterns and related site information with other businesses, but these statistics will include no personally identifying information.

We may share your information with Teleflora and other reputable vendors for the purpose of sending out special offers via email and/ or in connection with the services provided by our site such as the delivery of flowers. Your information will not be shared for any other purpose and will be kept secured.

We cannot ensure that all of your private communications and other personally identifiable information will never be disclosed in ways not otherwise described in this Privacy Statement. For example, we may be required to disclose information to the government or third parties under certain circumstances, or third parties may unlawfully intercept or access transmissions or private communications. We can (and you authorize us to) disclose any information about you to law enforcement or other government officials as we, in our sole discretion, believe necessary or appropriate in connection with an investigation of fraud, intellectual property infringements, or other activity that may be illegal or may expose us to legal liability.

Security

This site has security measures in place to protect the loss, misuse and alteration of the information under our control.

All user credit card information is securely communicated using secure socket layer (SSL) software, which is the industry standard and among the best software available for secure commerce transactions.

All user information stored on our server is stored in an encrypted format. Notwithstanding these efforts, we caution you that perfect security does not exist on the Internet.

Linked Sites

If this site contains any links to other websites, we are not responsible for the privacy practices or the content of such websites.

Changes to Privacy Statement; Consent

We may update this Privacy Statement from time to time. You should check this page periodically for changes. By using our site, you consent to the collection and use of your information by us as described in this Privacy Statement.

Questions and Comments

We welcome your questions and comments about this Privacy Statement.